2017 Employer Champions
WAYNE MACKAY, CHRIS KENNEDY, CANSO FORD SALES/PORT HAWKESBURY COLLISION CENTRE
Canso Ford Sales/Port Hawkesbury Collision Centre is a longtime supporter of the apprenticeship system. Canso Ford Sales understands the importance of having a well-trained workforce, and currently employ apprentices in the Automotive Service Technician and Motor Vehicle Body Repairer (Metal and Paint) trades. Canso Ford Sales also employs several certified journeypersons who have completed the apprenticeship program. NSAA recognizes Canso Ford Sales/Port Hawkesbury Collision Centre as a Champion employer for both past and present support of the apprenticeship program.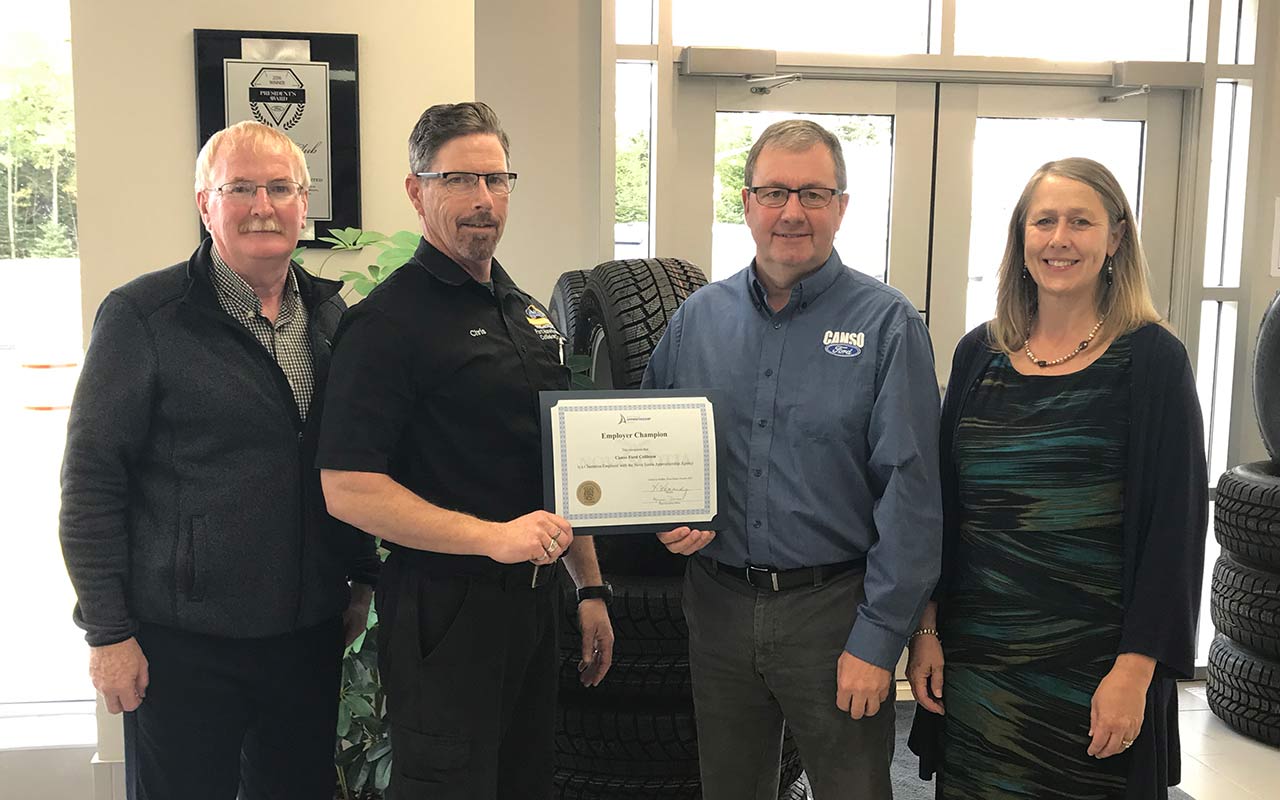 HARVEY MACDONALD, TREVOR MACDONALD, JANET MACDONNELL, ZUTPHEN EQUIPMENT
Zutphen Equipment has been committed to training their apprentices through to certification for a number of years with the assistance of certified journeypersons on site. Many of Zutphen's journeypersons became certified while working with the company. Currently, Zutphen Equipment has apprentices advancing in the Welder and Truck and Transport Mechanic trades. NSAA recognizes Zutphen Equipment as a champion employer for both past and present support of the apprenticeship system.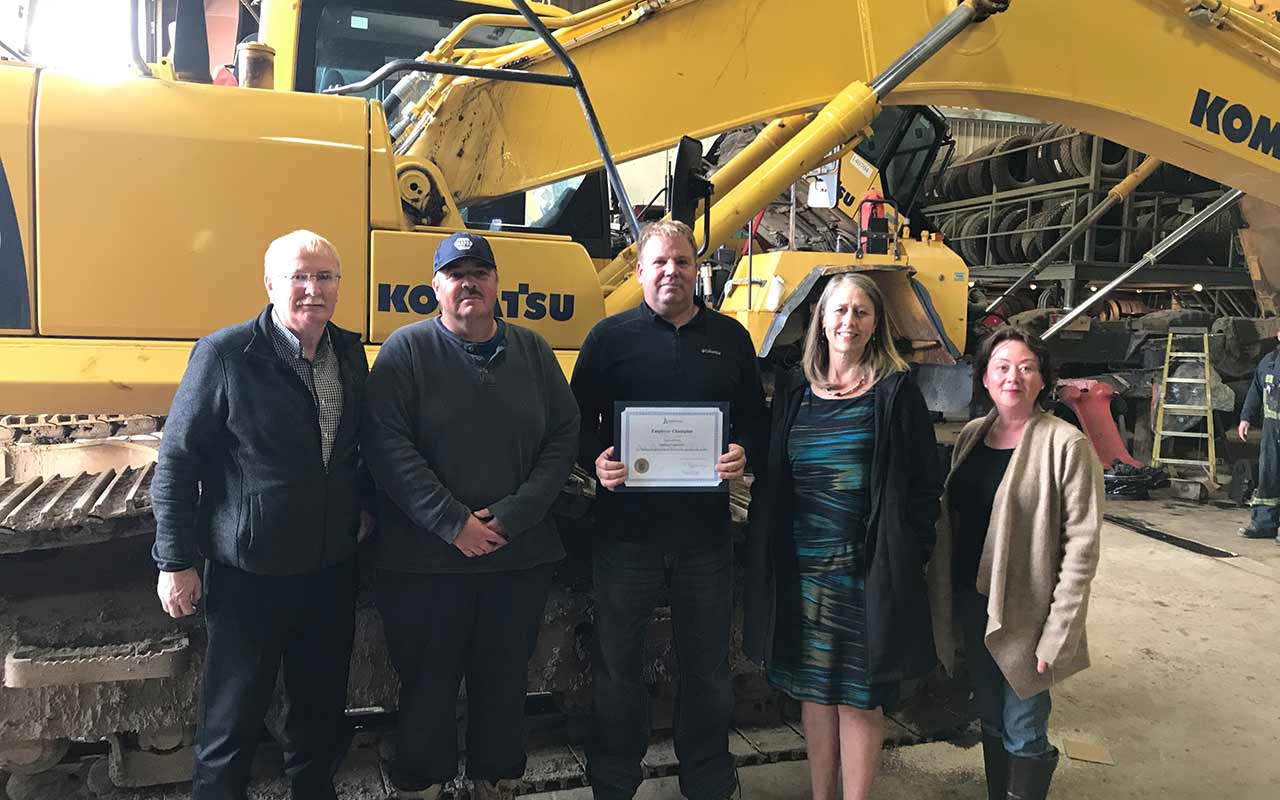 MARK FORREST, MARK FORREST AUTO BODY
Mark Forrest, owner/operator of Mark Forrest Auto Body, is a great employer and supporter of the apprenticeship system in Nova Scotia. Mark ensures his apprentices are well-trained both in-school and on-the-job in his busy shop. In addition, Mark keeps in close contact with the Nova Scotia Apprenticeship Agency regarding his apprentices' progress toward certification. Mark Forrest Auto Body is a new, up-to-date and safe workplace with the latest equipment. NSAA recognizes Mark Forrest Auto Body as a Champion employer for both past and present support to the apprenticeship program.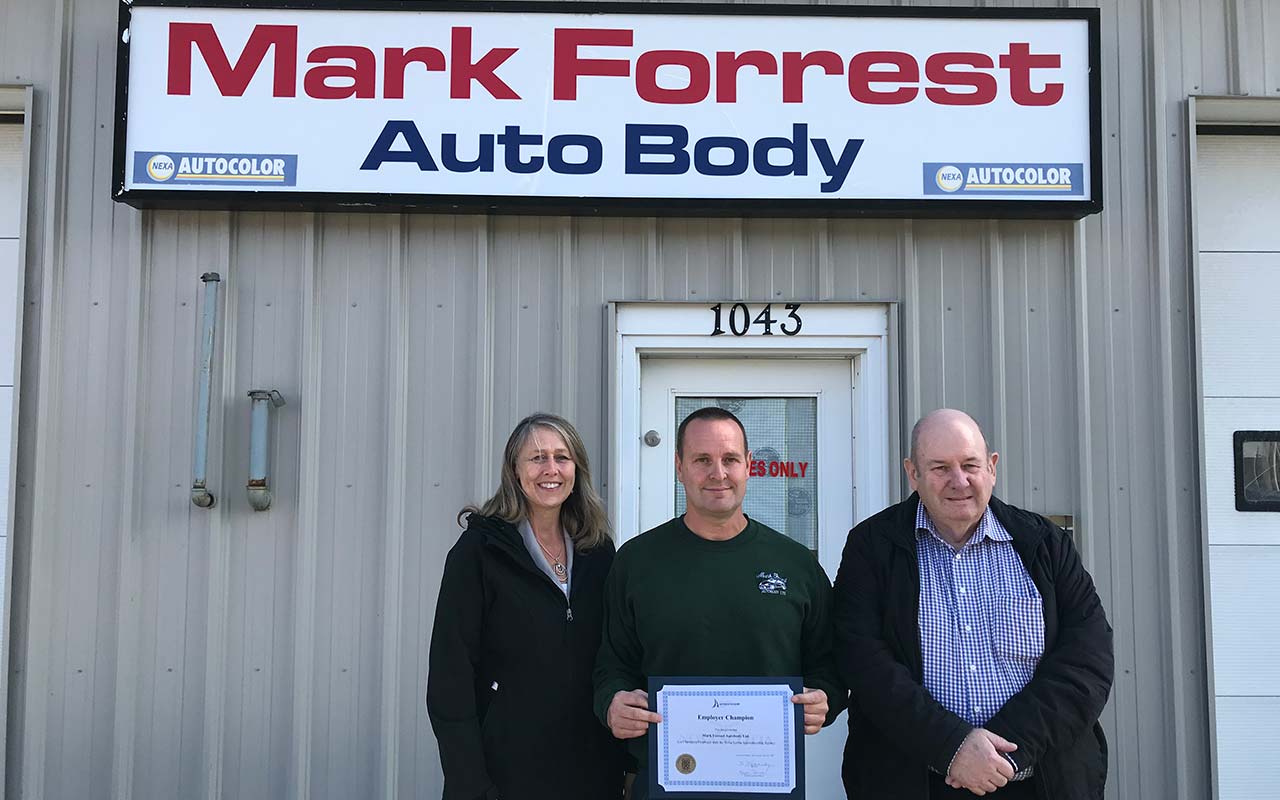 MARC LAMARCHE, EZ FLOW PLUMBING & HEATING
Marc Lamarche, owner of EZ Flow Plumbing & Heating (recently acquired Stone Bros. Plumbing and Heating), is a true employer champion who ensures his employees register as apprentices immediately. Marc also takes a personal interest in making sure his apprentices are living up to their commitment by progressing through their hours and training.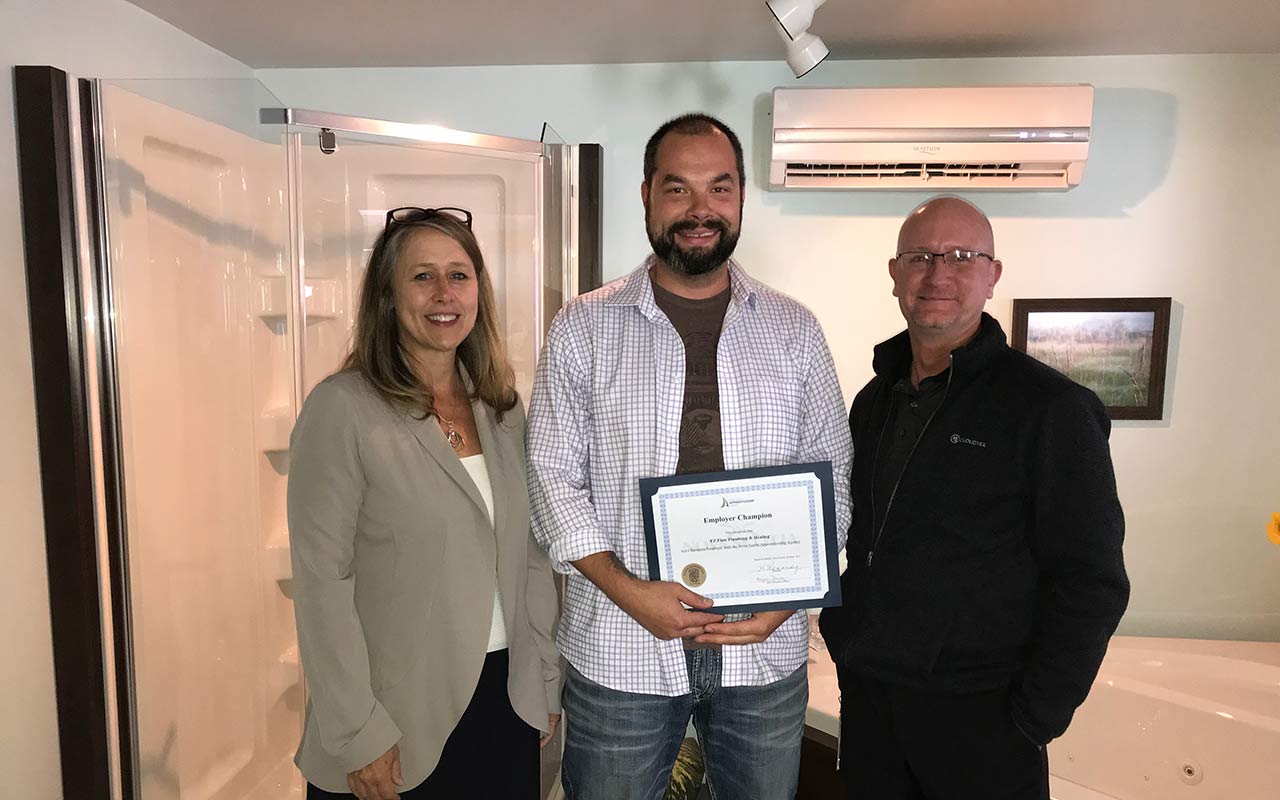 CHRIS MACLEAN, TIM LEBLANC, TJ WILSON, GRAHAM HUDDLESTON, BAYVIEW TRUCKS & EQUIPMENT
Bayview Trucks & Equipment Ltd. currently employs several Truck and Transport Mechanic apprentices; has supported the progression of several other apprentices to journeyperson-status; and continues to employ two of the certified journeypersons. NSAA recognizes the Bayview team as a champion employer for both past and present support of the apprenticeship program; for being a supporting employer of the Truck and Transport Mechanic trade in Pictou County; and for being an effective employer and trainer for work-placement opportunities through the local NSCC Pictou Campus.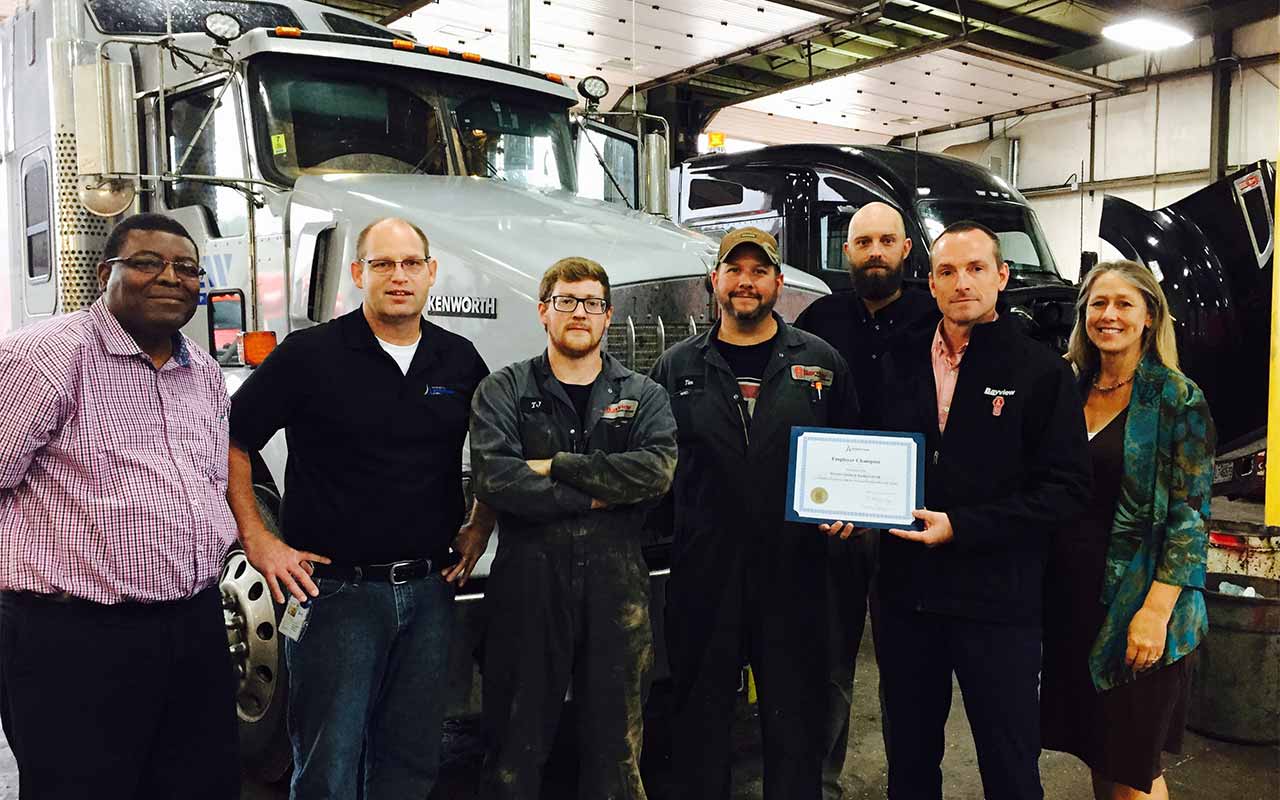 KEN SWAN, TREVOR LEECO, ANCHOR MOTORS
Under new ownership and management, Anchor Motors has engaged with NSAA representatives to have current and new apprentices enrol for training and progress through levels and skills; and have on-site journeypersons participate in apprentices' progress. The new Fixed Operations Manager, Ken Swan, has embraced the need for a skilled workforce and promoted training and progress with his apprentices and journeypersons. Additionally, Anchor Motors' engagement with NSAA secured upcoming local training for Automotive Service Technician levels one and two at NSCC Pictou Campus.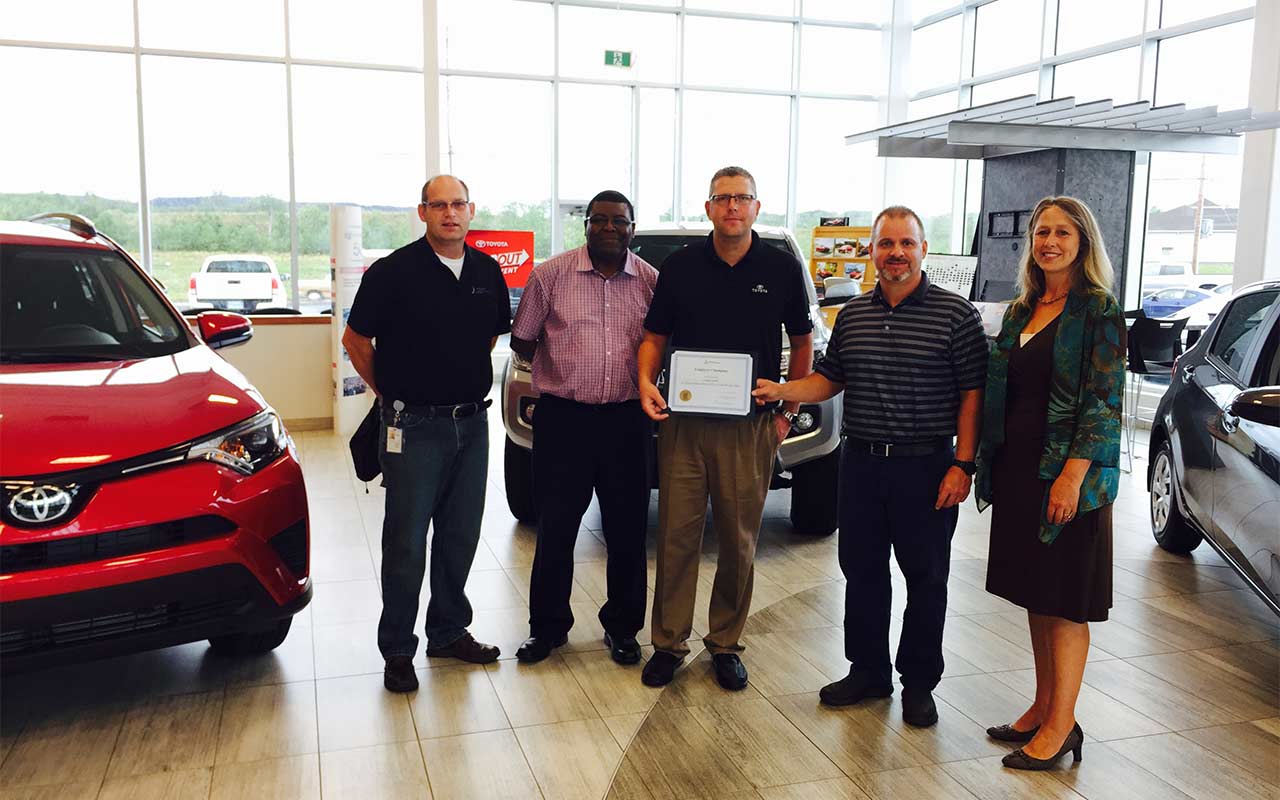 FRANK DAVIES, DAVIES PLUMBING AND HEATING LTD.
Davies Plumbing and Heading Ltd. has been supportive of the apprenticeship system in Nova Scotia for over a decade. Owner Frank Davies believes in training his apprentices, many of whom have become certified journeyperson Plumbers. Currently, there are four apprentices working for Davies Plumbing and Heating, and the company encourages its apprentices to progress by taking technical training. Davies also participated in the NSAA/ISANS Work-based Practical Assessment Project by providing an apprenticeship opportunity to a newcomer to Nova Scotia, who is currently taking Level 1 technical training at NSCC, and is pleased to be practising his trade of over 15 years in Nova Scotia.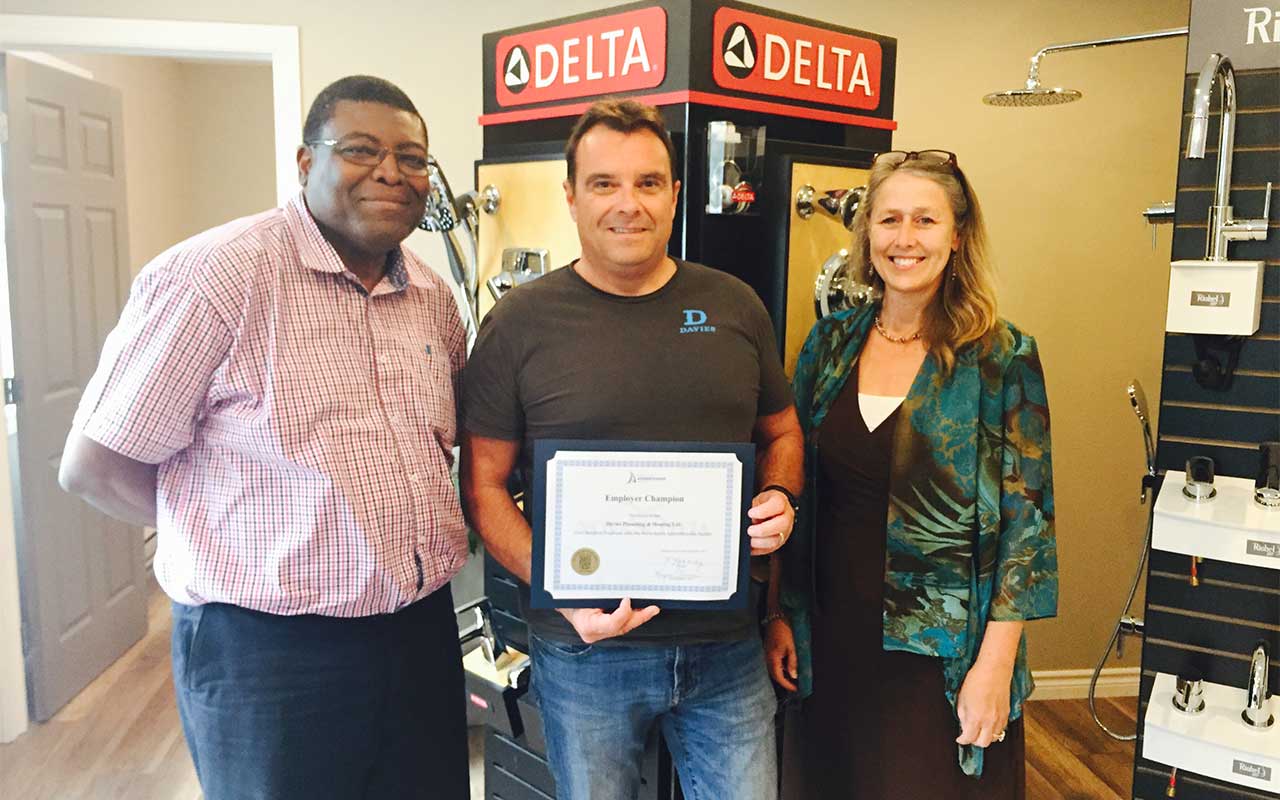 CLARK HANNA, JORDAN BURKHARDT, OXFORD FROZEN FOODS
Oxford Frozen Foods is a champion employer that employs numerous Industrial Electrician and Industrial Mechanic (Millwright) apprentices in their manufacturing plant. Oxford Frozen Foods is always focused on the certification of their apprentices, guiding them through on-the-job skills development via qualified Red Seal certified journeypersons, and allowing sufficient time for the apprentices to complete their technical training. Human Resources personnel are very attentive to the needs of the apprentices and are in touch with the Industry Training Consultant on an ongoing basis, assisting in the smooth transition from apprentice to certified journeyperson.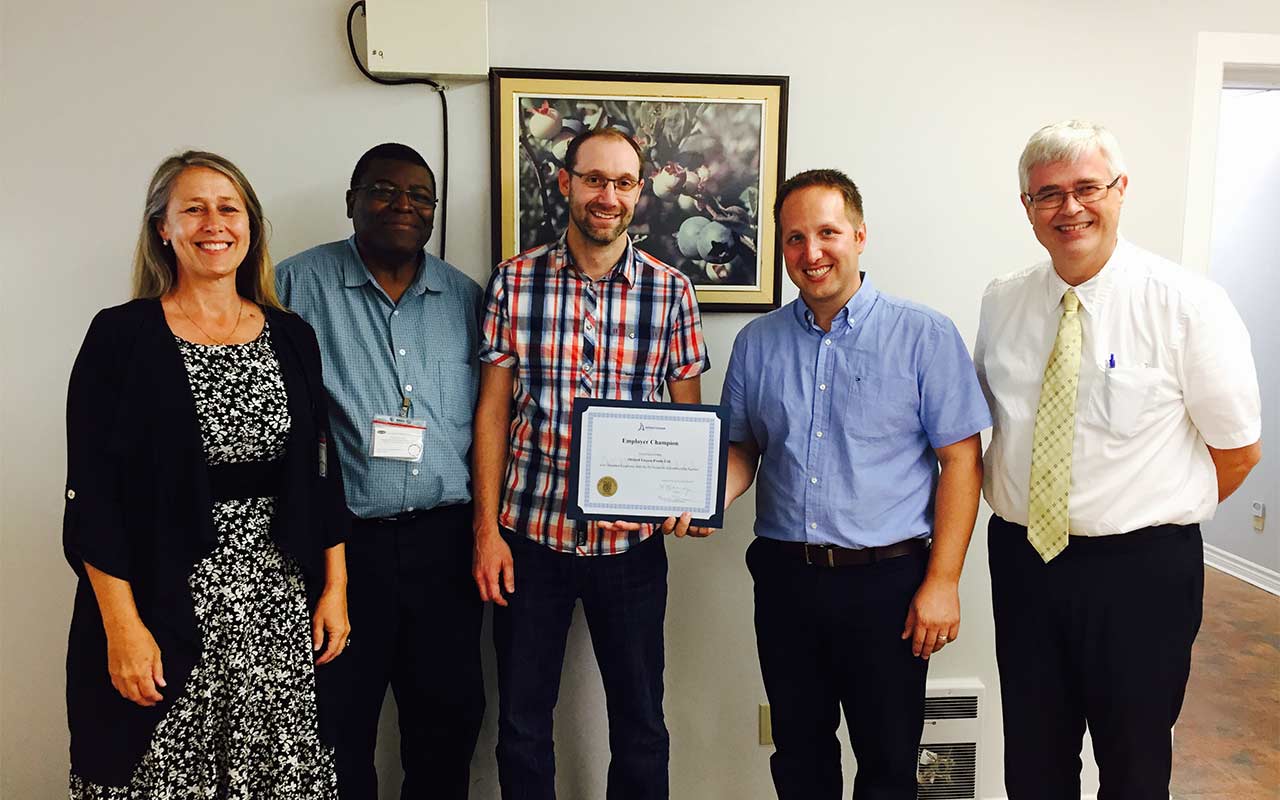 ROB CORLETTE, J.C. MECHANICAL CONTRACTORS LTD.
J.C. Mechanical Contractors is a leading mechanical contractor in mainland Nova Scotia. This is a great company that has put many apprentices through the apprenticeship program in the Plumber and Sheet Metal Worker trades. J.C. Mechanical Contractors started in 1971 as a small plumbing & heating company. From there, it grew to a large company specializing in commercial, industrial, institutional and residential projects in the areas of plumbing, heating, ventilation and air conditioning systems.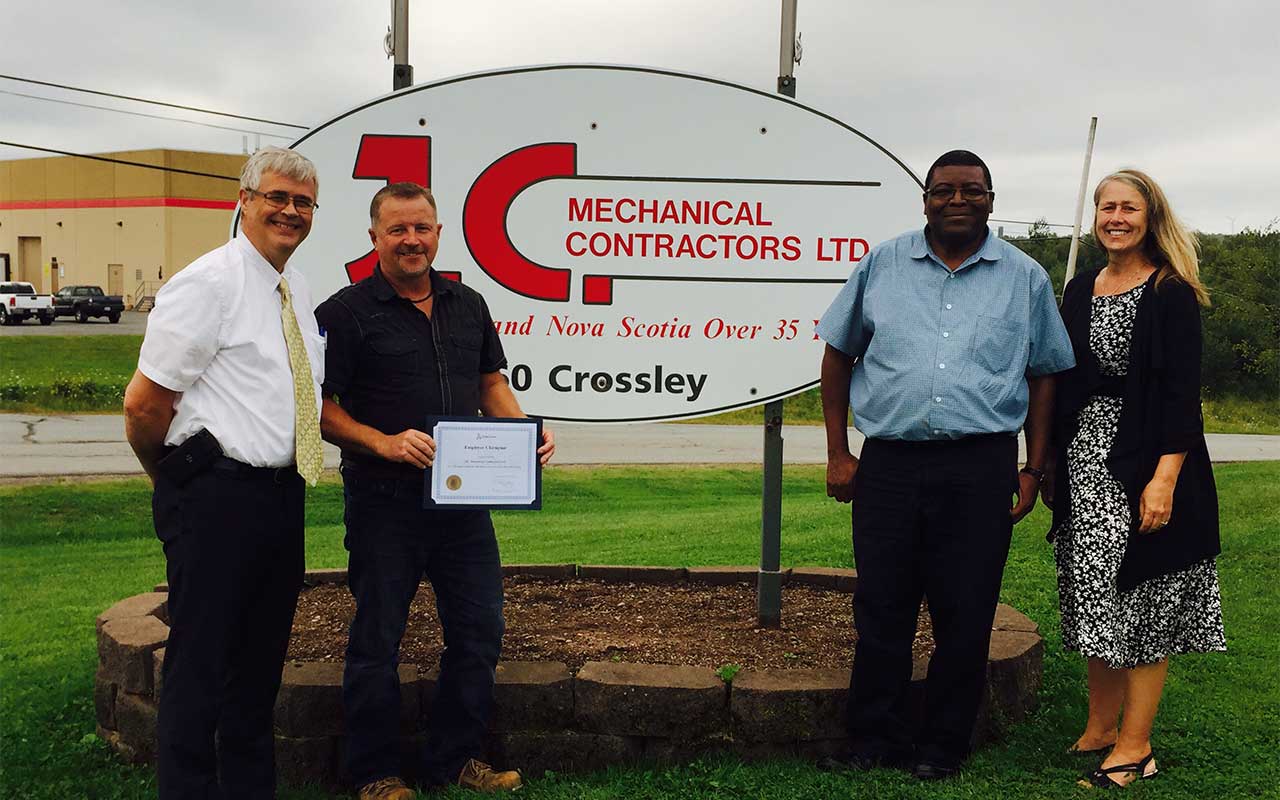 NICK SAUNDERS, BRIAN RICHARD, SAUNDERS MOTORS COMPANY
Saunders Motors Company is a family-owned business that has been selling vehicles for many generations and has built a solid reputation for quality of service and commitment to their valued clients. Service Manager Brian Richards has been involved in the Automotive trade at Saunders for many years; his leadership has influenced the company's reputation by promoting and championing the value of a highly-skilled workforce. Utilizing the Direct Entry route into apprenticeship, as well as Youth Apprenticeship, Saunders Motors has been able to focus on hiring apprentices who are the best fit for the company, while using apprenticeship training, mentorship and internal training to teach the necessary skills that lead to certification in the trades.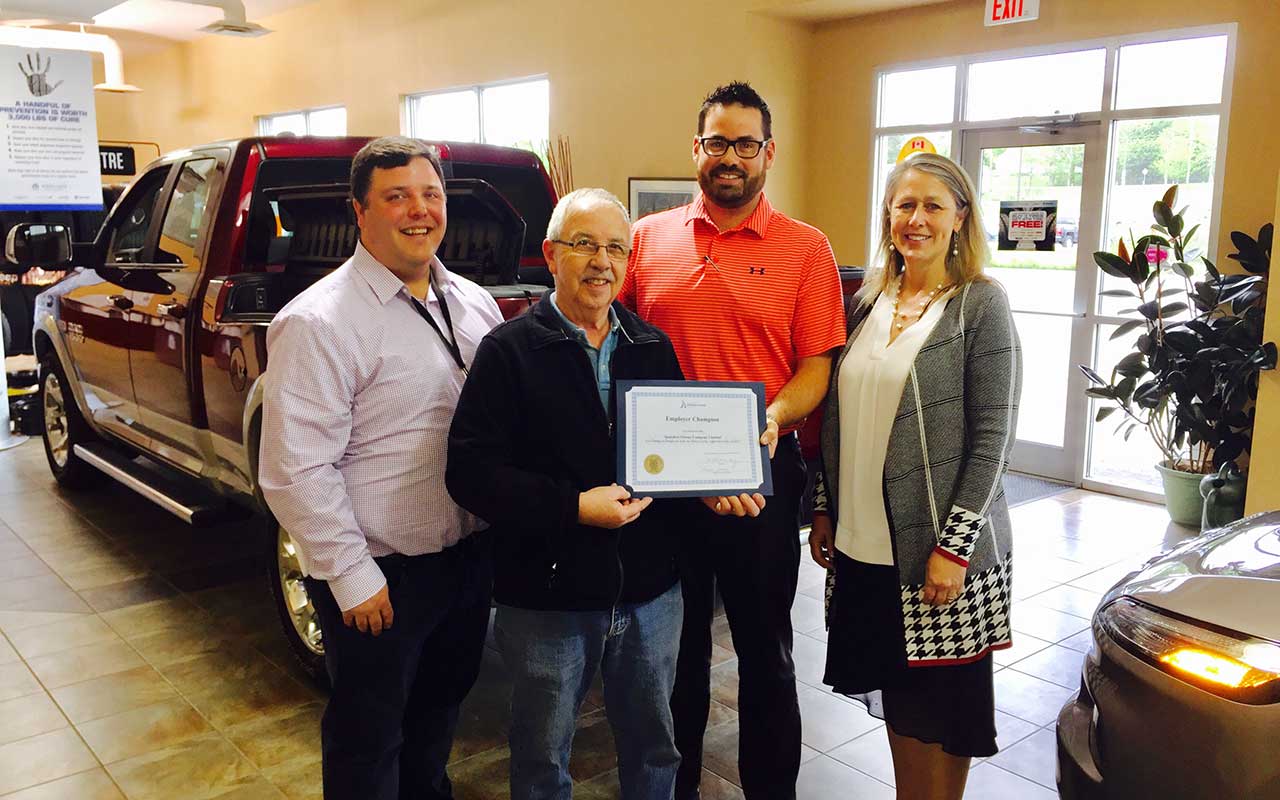 MIKE MARTIN, DENNIS CAMPBELL, MARITIME MOTOR COACH (AMBASSATOURS)
Maritime Motor Coach (Ambassatours) has developed a culture of training and is committed to continue to train and grow its number of certified journeypersons. Mike Martin and the team provide great supports, opportunities and a full scope of training to their apprentices. Maritime Motor Coach currently have several apprentices enrolled in training and are looking forward to growing these apprentices to the best of their abilities.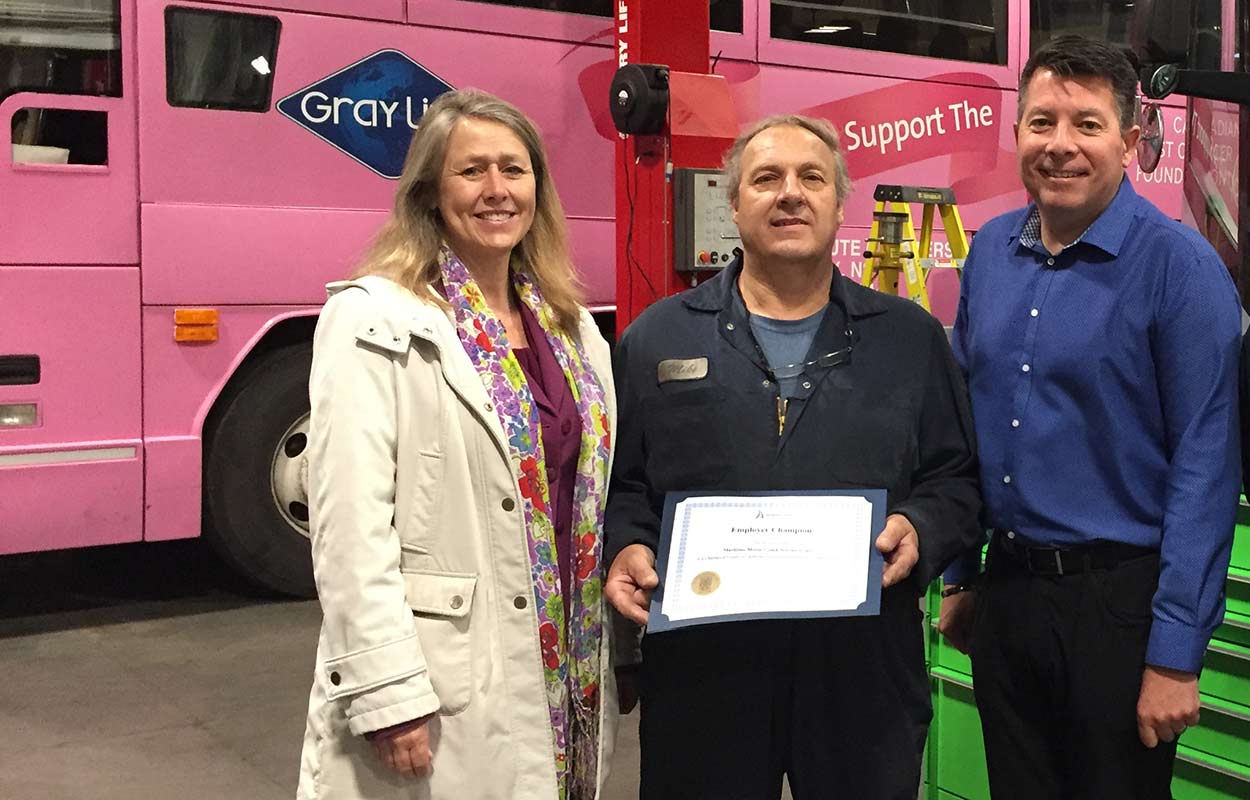 ALAN CROSBY, WHITE POINT - ELLIOT'S DINING ROOM
Chef Alan Crosby at White Point Beach Resort's 'Elliot's Dining Room' is a strong advocate of the apprenticeship system in Nova Scotia. Through the years, the resort has grown its reputation as a culinary destination in the local area and beyond. Chef Crosby works to promote and grow the Cook trade through NSAA, NSCC and Trade Advisory Committees. Cooks who do their apprenticeship at Elliot's Dining Room learn the full scope of the trade and typically pass their Red Seal exam on their first attempt.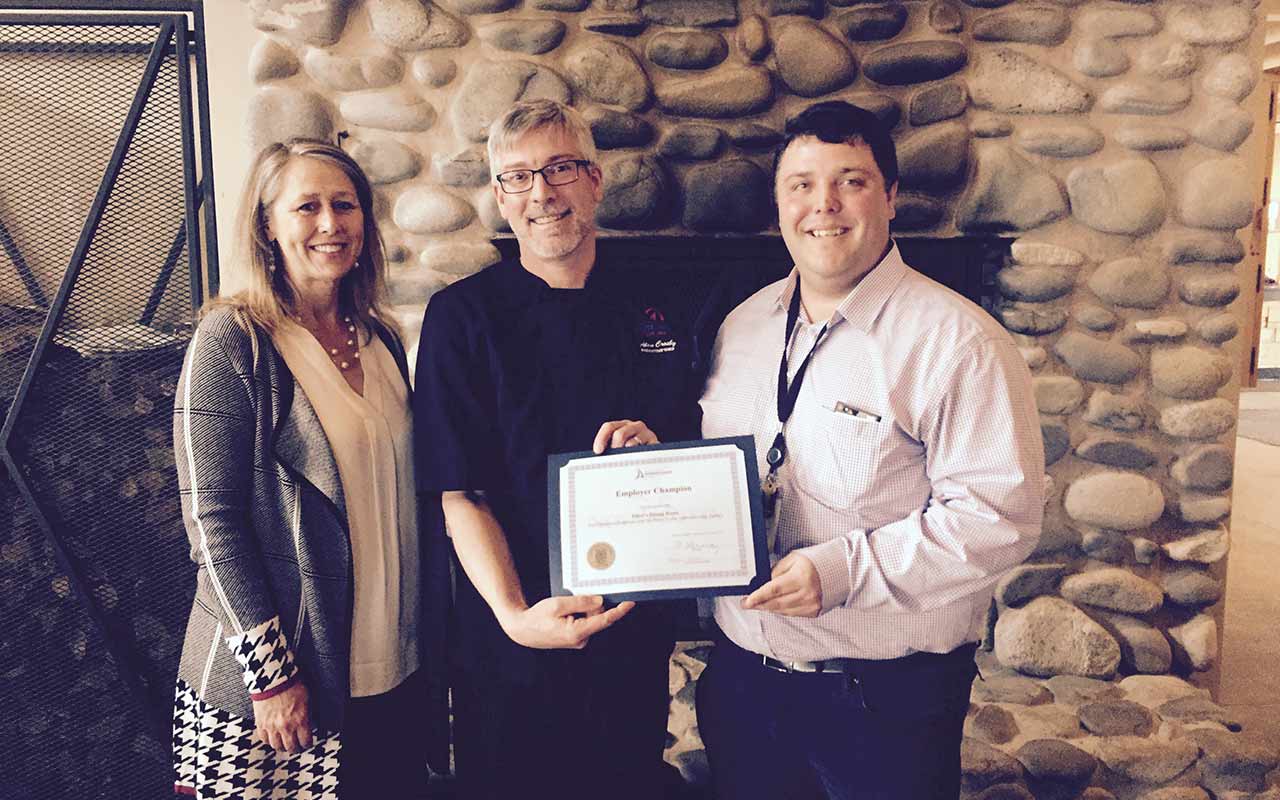 ERIC TIBBETTS, TIBBETTS ELECTRICAL CONTRACTING
Tibbetts Electrical has been very active in the Nova Scotia Apprenticeship Program for 28 years. Eric Tibbetts, along with his Red Seal Certified Construction Electrician staff, have mentored many apprentices through to certification. Tibbetts Electrical offers apprentices with the most diversified on-the-job training in the electrical industry. Their client base in the residential, commercial, industrial, agricultural and government fields provides apprentices with the experience and knowledge to successfully transition to long term careers as Construction Electrician journeypersons.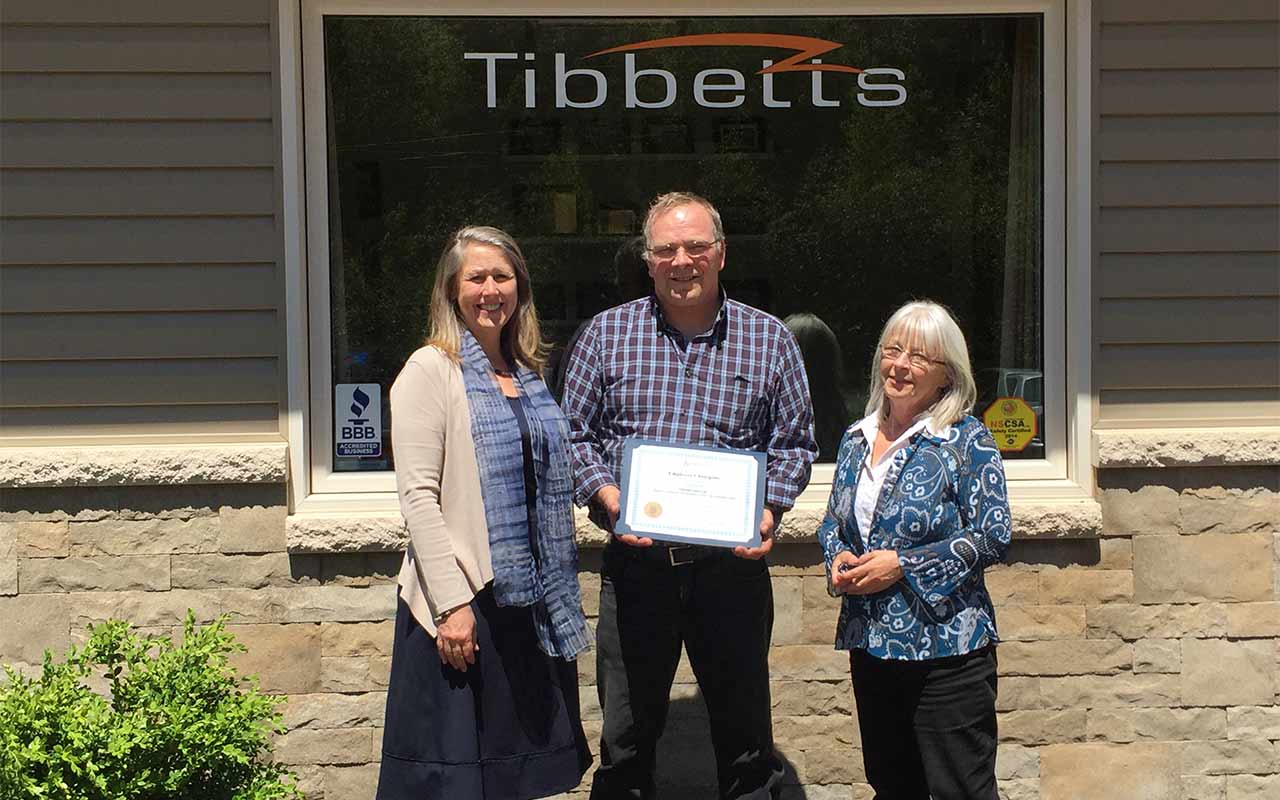 BRIAN MCEWAN, DON CAMERON, EXPERT ELECTRIC & ALARM LTD.
Expert Electric & Alarm Ltd., and manager Brian McEwan, provide employment opportunities for many apprentices. The company has several certified journeypersons on staff who provide supervision, training and mentorship to Nova Scotia apprentices. Brian McEwan is engaged with the Apprenticeship Program; very supportive of his apprentices; and very diligent in keeping his employee records up-to-date and accurate with the Nova Scotia Apprenticeship Agency. Thank You, Expert Electric & Alarm, for your continuous support, and for providing Nova Scotians with well-trained, qualified Construction Electricians.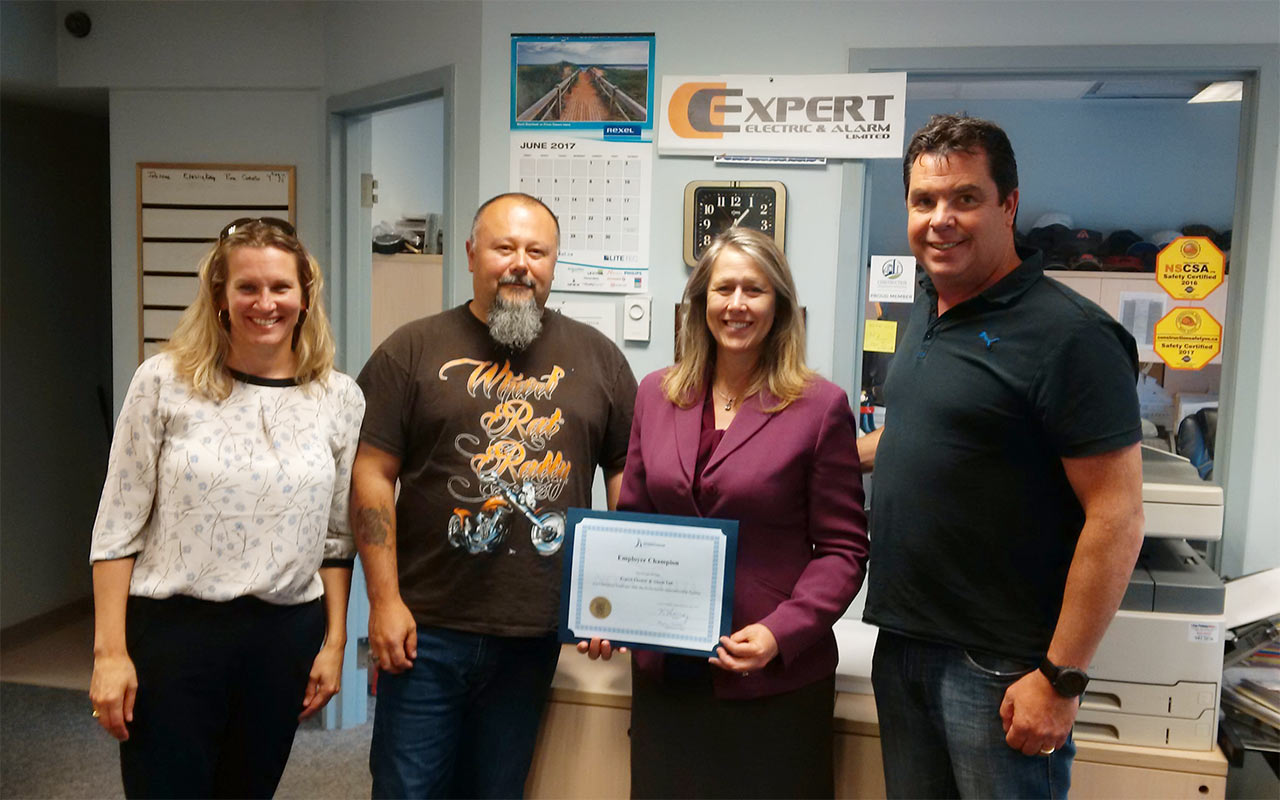 SHELLEY NICKERSON, IAN MCNICOL, GARIAN CONSTRUCTION LTD.
Ian McNicol of Garian Construction Ltd. has been in business throughout the Tri-county area since 1988, and is a champion employer for the Apprenticeship Program. Seven Red Seal Carpenters have completed their apprenticeship at Garian over the years, and they currently employ several Carpenter apprentices, including a female apprentice, who are at various levels of completion towards their certification. Shelley Nickerson, Office Manager, helps the apprentices keep their logbooks updated and assists them in applying for their annual in-class technical training and grants. Garian Construction is a busy company that supports apprentices and the Nova Scotia Apprenticeship Agency.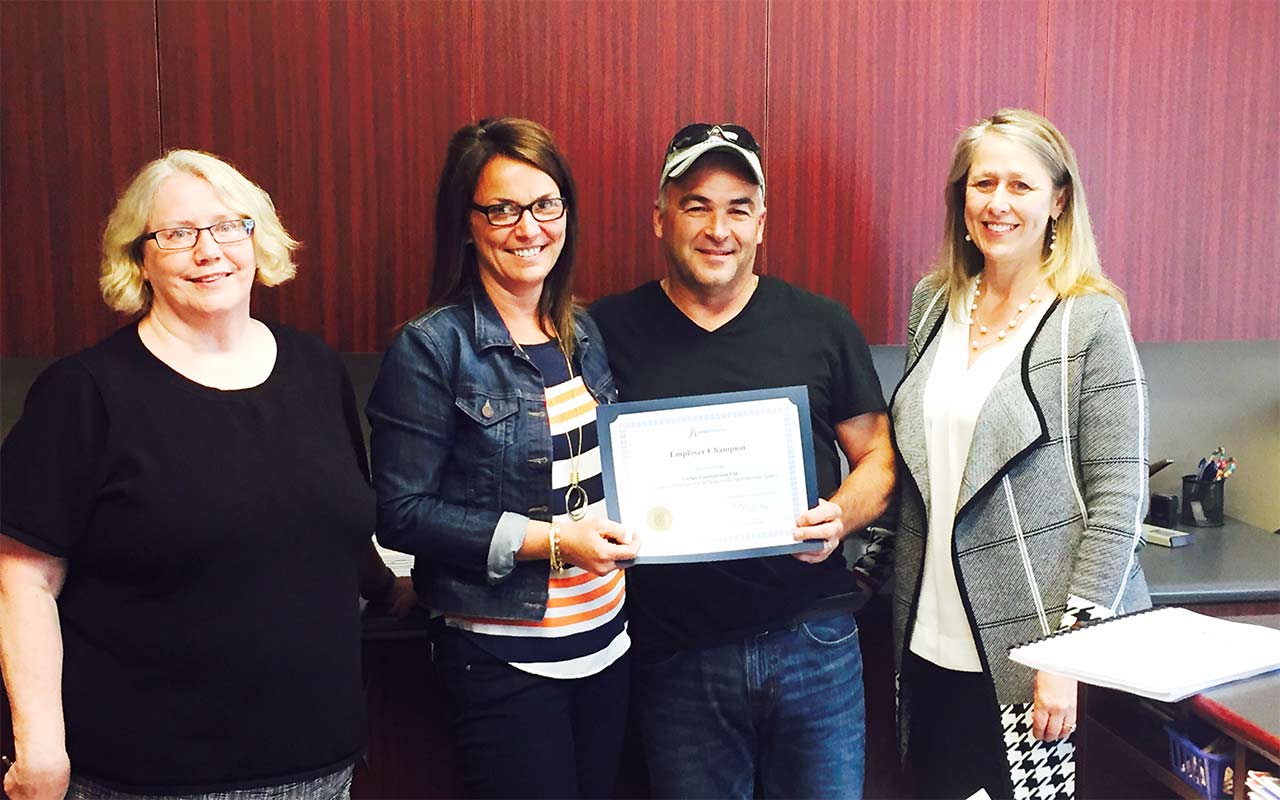 MARCEL PAYETTE, YOLAINE WELLINGS, ATLANTIC AUTOMATIC SPRINKLERS LTD.
Atlantic Automatic Sprinklers Ltd. owner Marcel Payette has 61 years' experience and has been instrumental in the training of many apprentices over the years. The company currently employs several apprentices, and is a champion employer because they create a work environment which retains quality journeypersons who offer quality practical training presently. As well, in 2016, Marcel and a journeyperson participated in the Sprinkler Fitter Red Seal Occupational Standard validation workshop.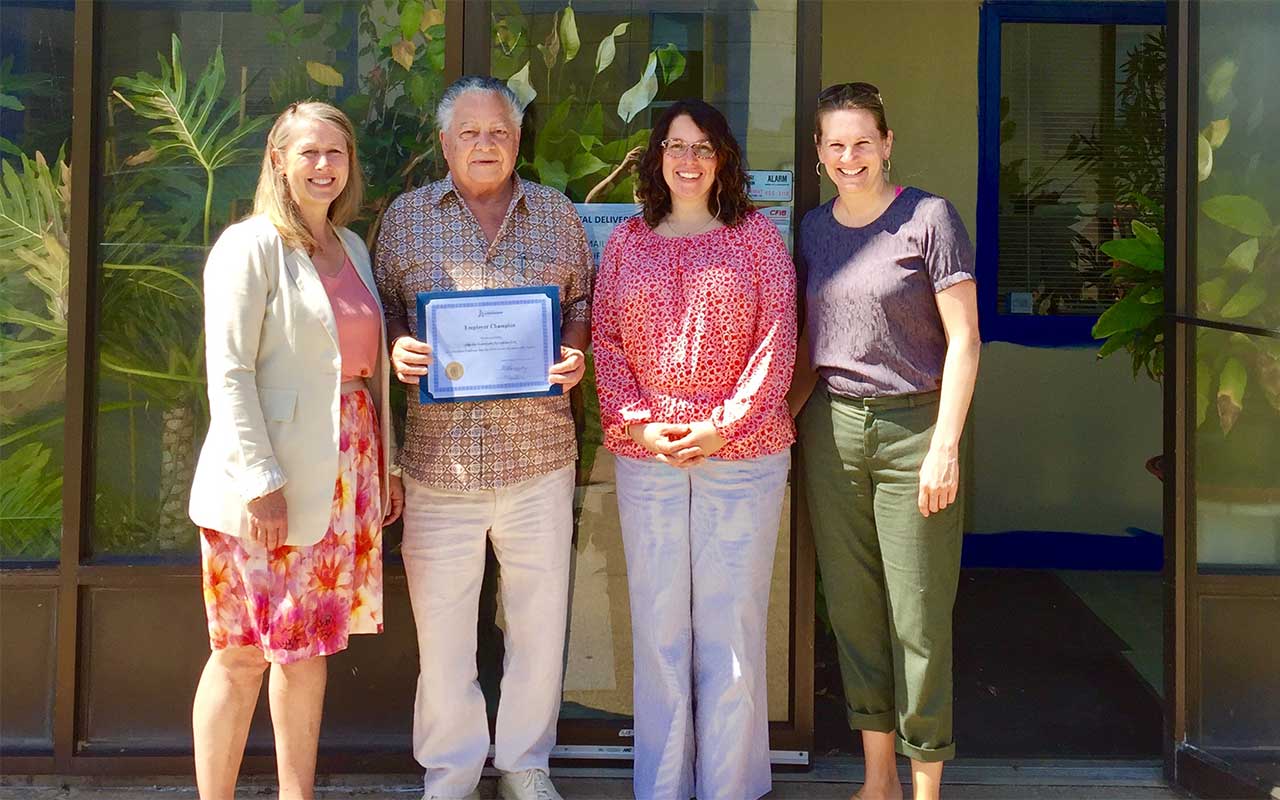 KRISTA MILLS, ROBBIE ZWICKER, CAROL MABEY, CKF INC.
CKF's Human Resource Team, along with their Engineering and Red Seal Certified Tradespeople Teams, have been active in the Nova Scotia Apprenticeship Program for many years. CKF has provided on-the-job training and supports for many apprentices as they progress on their journeys to Red Seal Certification in trades such as Sheet Metal Worker, Industrial Electrical, Industrial Mechanic (Millwright) and Instrumentation and Control Technician.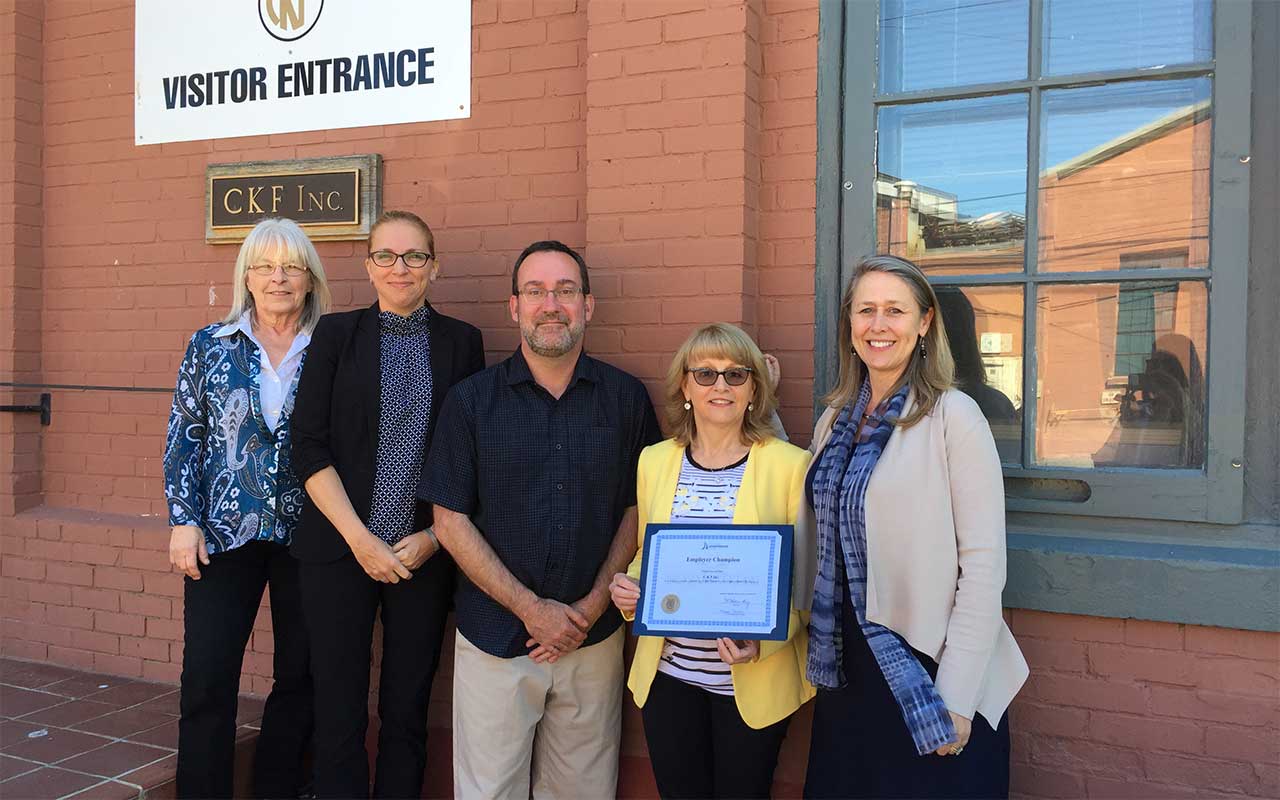 JANE CAUDLE, CHERUBINI METAL WORKS
Cherubini Metal Works is an employer that promotes skills development to their apprentices, both internally and through Apprenticeship technical training. Most recently, in June 2017, Cherubini had two Welder apprentices pass the Welder Practical Exam and, then, the Red Seal Exam. At any given time, Cherubini Metal Works can have 7 to 10 apprentices working towards becoming certified in their trades. Way to go to this Champion Employer of Apprenticeship!
JAMIE CAMERON, RENE COX, BIRD CONSTRUCTION
Bird Construction's Jamie Cameron is a fantastic employer representative and has been a strong promoter of Apprenticeship. Under Jamie's guidance, Bird Construction is always encouraging their employees to register as apprentices; when they register, the company supports them 100% for time-off to attend training. Jamie Cameron maintains close contact with the Nova Scotia Apprenticeship Agency and is always proud to see Bird's apprentices progress certification.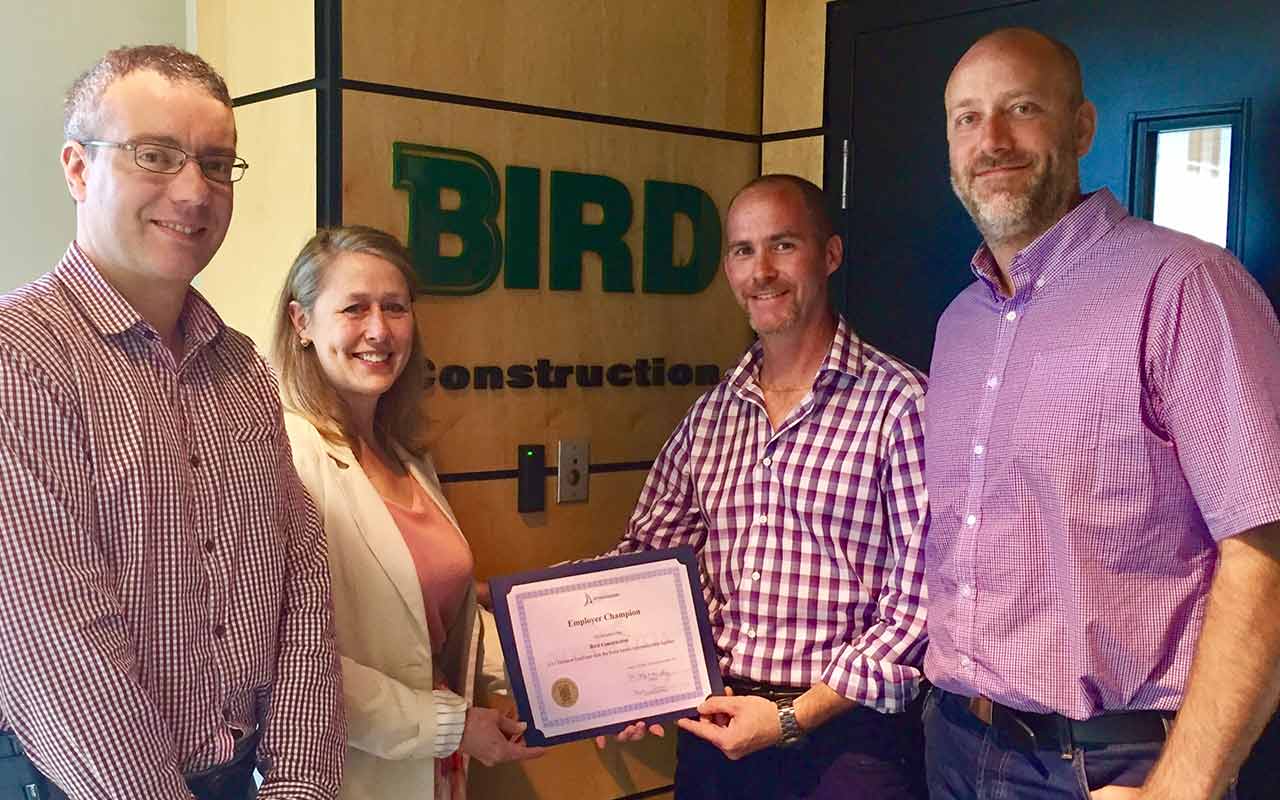 DOUG BURGESS, MARLEY BLANCHARD, DOUG BURGESS ELECTRICAL
Doug Burgess, of Doug Burgess Electrical, has hired, retained and is committed to providing on-the-job training for apprentices working in Hant's County in the Construction Electrician trade. Doug Burgess' commitment to training to the highest standards make his company stand out. Kudos to Doug for the approach that he's taken as the employer, providing hands-on training and looking to have a high standard of training in the industry.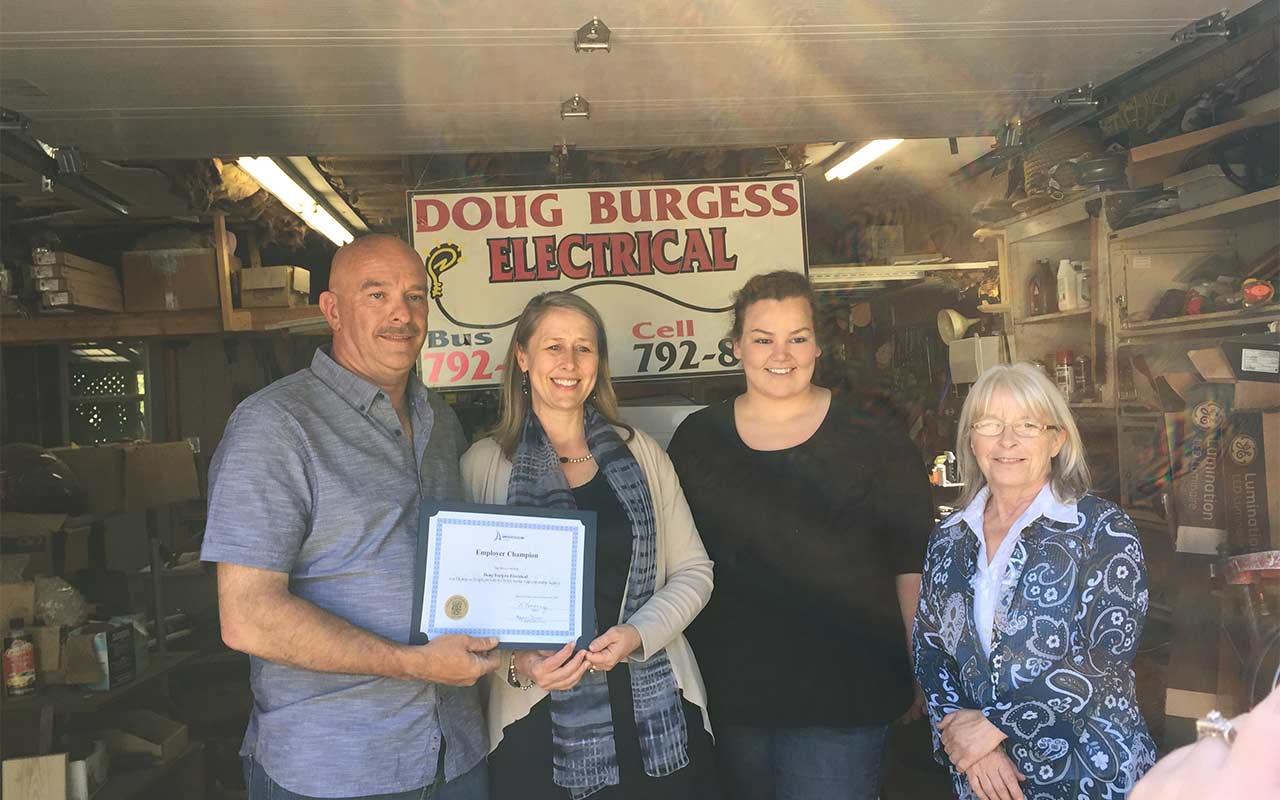 A.F. THERIAULT & SON LTD.
Since 1938, A. F. Theriault & Son Ltd. has built over 800 boats, utilizing a variety of trades. Thirty-three Welders have gained Red Seal certification over the years, along with six Construction Electricians and three Plumbers. Today under owner/operator Stephane LeBlanc, the company employs 11 apprentices in the Welder, Construction Electrician and Industrial Mechanic (Millwright) trades. Whether repairing wooden boats, or building with fiberglass or steel, A. F. Theriault is a champion of the Nova Scotia Apprenticeship Agency.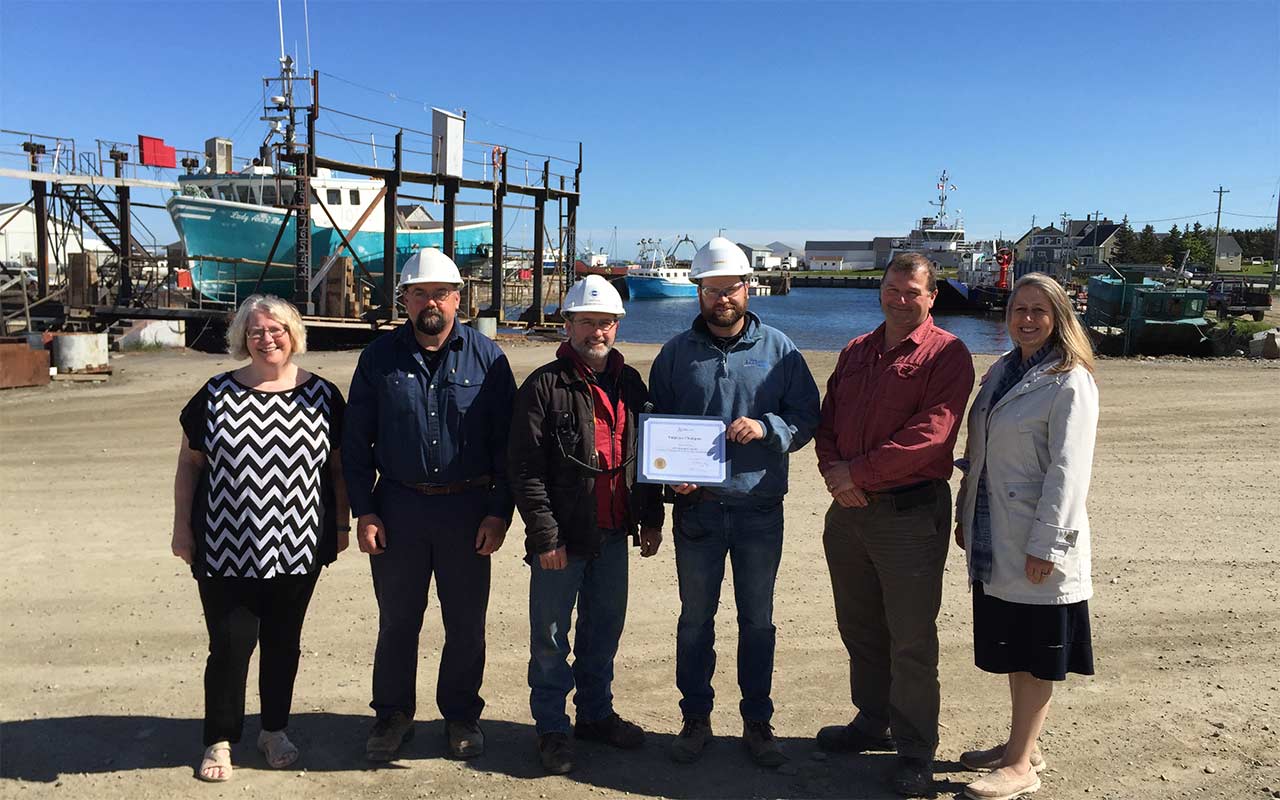 SHANE ROBILLIARD, FOX HARB'R RESORT
Fox Harb'r Resort is a large employer in a small community. Their award-winning team of culinary experts cater to every taste with seasonally-inspired menus showcasing the best of our local flavours and the freshest ingredients. NSAA has partnered with Fox Harb'r Chef Shane Robilliard to certify 3 Cooks each of the past two years.