African Nova Scotians in the Trades
There are excellent opportunities for African Nova Scotians in the skilled trades. Certified tradespeople are in demand in the Nova Scotia labour force. So, if you want a rewarding career, now is the time to explore an apprenticeship program, or you may have significant experience in a trade and be interested in obtaining certification. The Agency is committed to engage with communities and organizations to connect African Nova Scotian youth and career seekers to opportunities in the skilled trades. A key partner in providing Afrocentric trades refresher programs in HRM is The Africadian Empowerment Academy. Visit The Africadian Empowerment Academy's webpage for Pathways to Shipbuilding for African Nova Scotians, to learn about a program that has been designed to offer successful students the opportunity to build a lasting career in shipbuilding.
Apprenticeship KickStart Events
NSAA works in partnership with the Office of African Nova Scotian Affairs and the Black Business Initiative to deliver Apprenticeship KickStart events that promote apprenticeship and skilled trades careers to youth and career seekers. Events include guest speakers, fun activities and success stories told by apprentices and certified tradespersons. Events have been held in Sydney, Truro and Digby. We can also arrange visits to the Trades Exhibition Hall or have the Mobile Construction Experience come to your community. Contact us if you are interested in a KickStart event, to arrange a visit to the Trades Exhibition Hall or if you would like to have the Mobile Construction Experience come to your community.
Skilled Trades Camp for African Nova Scotian Youth
The Nova Scotia Apprenticeship Agency in partnership with the Black Educators Association (BEA), Nova Scotia Community College (NSCC) and Youth Initiatives (Skills and Learning Branch) hosted a five-day camp from July 11 – 15, 2022 for 14 African Nova Scotian youth from the Preston-Cherry Brook areas who were interested in exploring and learning more about careers in the skilled trades.
The camp included a tour to the Nova Scotia Construction Sector Council's (NSCSC) Trades Exhibition Hall where participants learned about construction trades, followed by three days of hands-on welding at the NSCC Akerley campus where participants made dog tags and produced some of the easier-to-weld Adrinka symbols (historical and philosophical African symbols). The final day of the camp took place at the Black Cultural Centre (BCC) in Cherry Brook where they heard from a panel of three generations of ANS skilled trades professionals, consisting of: Chad Carrington, a Red Seal Carpenter; Sattina Dabb, a Welder apprentice; and Everill Armstrong, a retired Construction Electrician.
NSAA would like to thank the BEA, NSCC and NSCSC for making this opportunity possible for the youth who participated!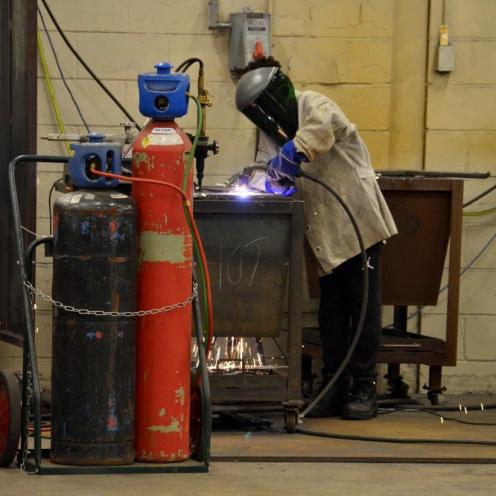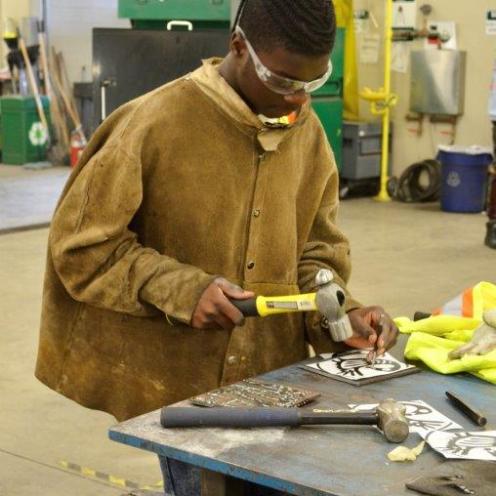 Success Story
Jarred O'Connor, Bricklayer
Jarred O'Connor explains the apprenticeship pathway.
Success Story
Chad Carrington, Red Seal Carpenter
Chad Carrington explains the trade and the benefits of apprenticeship training.