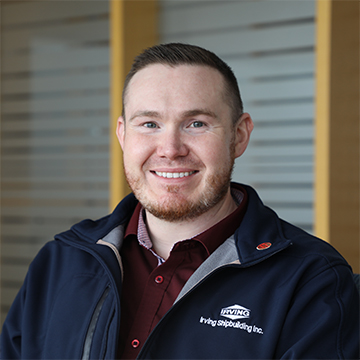 First appointed for a 3-year term on March 29, 2022; current term expires March 28, 2025
Sector represented: Industrial/Manufacturing
Represents: Employees
Committee membership: n/a
Shawn McKillop is a Development Leader for the Apprenticeship Program at Irving Shipbuilding Inc. and is committed to the ongoing development of a modern and supportive apprenticeship program at Irving Shipbuilding. A dedication to continuous improvement underpins Shawn's determination to develop initiatives to help apprentices feel safe, supported, and engaged so they can succeed in their apprenticeship. Shawn received the 2021 Apprenticeship Award of Excellence.
Shawn has a Certificate of Qualification with Red Seal Endorsement in the welder trade and has worked across Canada as a pipe welder, a welding instructor, and as a training team leader at Halifax Shipyard. Shawn also received the Atlantic Trades Business Seal in 2020. Currently, Shawn is pursuing a Diploma in Adult Education through St. Francis Xavier University.